Hayden Platinum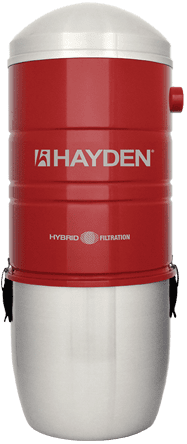 Performance. Strength. Durability.
Hayden's Platinum central vacuums provide efficient and quiet motors for maximum power and durability.
Ultra-Quiet

Hybrid filtration

10-year warranty

Made in Canada
Find out more about Hepa filtration
The HEPA filtration technology consists of high efficiency filters which provide 99.5% of filtration for particles up to 0.3µm. Hayden vacuums enclose dust using its high suction power. Equipped with Hepa filtration, these vacuum systems allow you to enjoy a healthier environment.
Hayden and versatility go hand in hand!
Some of the Hayden central vacuum systems are compatible with the Retraflex retractable hose that automatically store itself inside the walls. In addition, every product can be used with many different accessories which will ease home maintenance and will adapt to your lifestyle.

Discover the Accessories section.
Technical specifications
Three hybrid filtration models are available to meet the needs of the most demanding customers in terms of quality.
Scroll to the right to see all the models
Technical Data
Zircon
Titanium
Platinum
Airwatts
600 AW
650 AW
655 AW
Water Lift (H2O)
120" · 3048 mm
143" · 3634 mm
157.1" · 3991 mm
Air flow
117 CFM
199 CMH
130 CFM
221 CMH
112 CFM
191 CMH
MAX amps
12 A
15 A
14,6 A
Voltage
120 V
120 V
120 V
Number of motors
1
1
1
Turbines per motor
1
2
3
Bag capacity
16 l · 3.6 gal US
22 l · 5 gal US
22 l · 5 gal US
Canister capacity
19.7 l · 3.8 gal US
19.7 l · 3.8 gal US
19.7 l · 3.8 gal US
Weight
30.8 lb · 14 kg
30.8 lb · 14 kg
31.8 lb · 14.4 kg
Height
32" · 81.2 cm
32" · 81.2 cm
35.3" · 88.9 cm
Diameter
12.3" · 30.4 cm
12.3" · 30.4 cm
12.3" · 30.4 cm
Filtration
Hybrid filtration
Part warranty†
10 years*
Labor warranty†
3 years
Cleaning surface
Up to 3500 sq. ft.
Up to 7000 sq. ft.
Up to 10 000 sq. ft.
Product Code
AHAYDEN1A
AHAYDEN2A
AHAYDEN3A
†Domestic use only. See details in store or online.
*Parts: 5 years 100% + 5 years 50%