Hayden Black Series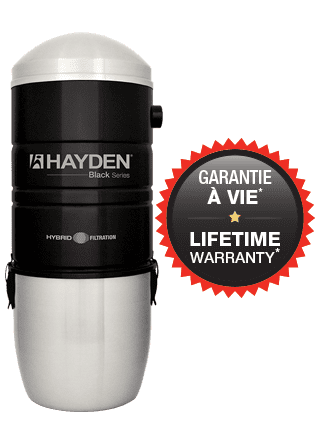 Incomparable
(Special editions,
available soon

)

The Hayden Black Series line of products is exclusive to a selection of professional dealers well known in this field for their expertise, their ability and their exceptional customer service!
Ask for these central vacuum systems at your dealers.
Exclusivity as powerful as remarkable!
Performance

Powerful central vacuum capable of covering large areas.

Versatility

Compatible with the Retraflex, retractable hose system.

Hybrid filtration

Allows you to use the vacuum with or without a bag.

Lifetime warranty

Exclusive protection for all Black Series models.
Lifetime Warranty
As a proof of the quality of the Black Series signature vacuums, they have a lifetime warranty which definitely represents an added value to these unique vacuum systems. Maintenance with specialists is mandatory every 5 years to honour this exclusive warranty.