Attachments for more performance!
Retraflex®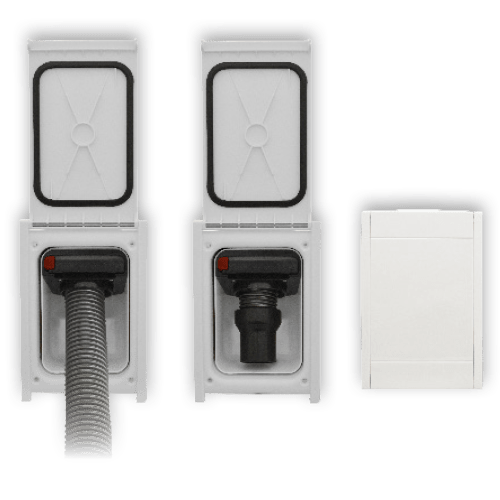 Choose a retractable hose that automatically stores itself inside the walls! The union between Hayden and Retraflex is the ideal combination to simplify cleaning. The pipes hidden inside the walls prevents hose clutter and can be installed in any style of houses! Visit retraflex.comfor more details. Product available with specific units only. Ask your dealer for more details!
Accessories
The entire line of Hayden central vacuums can be used with many accessories which will ease home maintenance and will adapt to your lifestyle.
Dustpan inlet

No more bending down! This inlet is activated with the tip of your toe, simply sweep the dirt and debris into the dustpan inlet.

Deco Vac Inlets

These design inlets, of undeniable quality are available at affordable prices. They are available in a wide array of colours and finishes and fit every standard mounting plates.

Attachment kits, 24 Volt

These quality kits include a hose with a switch, a stainless steel telescopic wand and a brush kit!

Brush kits

High quality brush kit including a floor brush, a dusting brush, an upholstery brush along with a crevice tool.

Electric powerhead DS1601

An essential for the carpets. It features non-marking bumper, rubber coated wheels, and an anti-static wooden roller brush. Its ergonomic design offers 5 different height adjustment levels, a swivel neck for easy navigation, and a low profile base that lays flat to clean under all furniture.

Air driven powerhead

Perfect to clean small carpets and area rugs. A great addition to your Retraflex retractable hose system or traditional system.

Wallyflex

This elegant and innovative auxiliary hose fits any standard inlet and can be installed in the kitchen, as well as in the bathroom, laundry room or in the garage!
See Wally in action on wallyflex.com

Self-cleaning filter – Hayden (TDFILT51V)

Bag – Hayden Zircon (TDSACN13), Titanium & Platinum (TDSACN93)